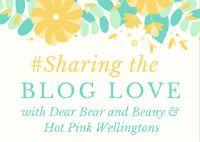 I came across this post Nobody Saw You this morning, I admit it made me cry. Why? Not in a bad way, but in a good way.
I'll explain, the last few months I always feel like I am alone, I know I'm not alone I have a few amazing friends, family and of course the Hubs and the children. But motherhood can be such a lonely world, Wether or not you are a such butterfly or you shine away, motherhood can actually be a very lonely place, we all share our experiences with others, but nobody knows what goes on behind closed doors. I've had a hell of a time with Bear recently, no matter what I do or say he just screams and crys after school, I really do not think waking up at 5am is really helping but it's so hard to break the code of getting him to sleep until 6am! Bell isn't helping the matter either, she is now going through the phase of she wants a comforter but she really doesn't actually want it, so the milk cup is thrown out of the bed about 10 times before she even considers going to sleep.
It also doesn't help that autumn is officially here the nights are getting colder and longer, I am back to work and I hate October with a passion. Why? In 15 days would mark the anniversary of my mums death to Cancer. Did I tell you cancer sucks?
The upside to the last few months are I've found friends who want to know me, who are worried about me, who know this isn't like me hiding away. I've joined The PTA as chair (this could be fun!), I'm also joining in with more class parent social events, I'm hunting for a new group to take Bell to, as I think she is getting bored of the local ones, even though they are amazing! Bear is getting in to his reading and doing really well in year 1 so far and Bell adores Pre-school.
My message really is about everyone may always have a smile on their faces, be a social butterfly and seem to know everyone and anyone, but in reality that person is, or could be the most loneliest person in the world or they may feel like the most loneliest person in the world even though they aren't.