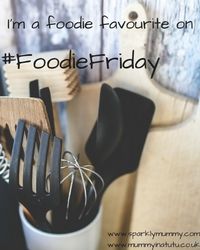 Let's join in with #FoodieFriday!
What a fab Idea Mummy In A Tutu and Sparkly Mummy !
Now who doesn't love food!
I was going to write a whole post on cake and chocolate but I thought with Christmas just around the corner I would write about something a bit practical and it could help you save a few ££££ to!
So let's Talk about
Meal planning
I have decided that doing a meal planner would be best for my family, Bear and Bell seem to eat constantly. I know this is a growth spurt and now the weather is getting colder I'm sure some of the time it's out of boredom!
The meal planner is working really well, even hubs is following it, which is great.
And the best bit is it is saving some money, especially with Christmas around the corner.
But the downside to a meal planner is that the meals I plan I usually do not fancy that night but I do still follow it!
How I do my meal planner?
I type it on the laptop, as it's so much easier to read and plan. I also sit there with a pile of cook books and have a flick through trying to get inspiration for new ideas.
Do I write a shopping list?
Yes, I didn't use to but I have to admit it is so much easier shopping. I do still add a few non listed items but they are for Christmas which I see on offer.

Would I recommend meal planning?
Yes I would it was really scary at first as I thought it would be really expensive but really it isn't . I don't buy the extra vauled products as I feel they have a high salt content which isn't good. I do sometimes buy chicken nuggets and chips but this is starting to be a rare treat. And we are still saving money.
Does meal planning help us eat more healthily as a family?
Yes it does! Everything at the moment is fresh, we are cutting down our meat intake and increasing our fish intake. The meals are freshly prepared and taste much nicer than pre done meals and the best bit is I know what is actually going into the meal!
So overall we are really enjoying the meal planning and eating much more healthily. The children are also trying new foods which they would usually turn their noses up at.

Do you have any healthy eating tips or tricks? I would love to hear form you!